"New Friends" is a participatory art exhibition initiated for the opening of New Taipei City Art Museum. It symbolizes that the museum will become a new local cultural community and creates an experience both entertaining and educational for its participants.

The immersive gaming device ID located in the R1 exhibition room of the dome art space helps to develop cognitive spatial coordination and improves logical thinking skills. Also, it reinforces the idea of community development and collaborative growth as family and friends can play and create together. It attracts an audience of all ages to take part in the growth of the New Taipei City Art Museum.

The experiential creation series, distributed amongst the R2 and R5 exhibition rooms of the dome art space and the outdoor plaza, are jointly built by seven artists, including Chang Huei-Ming, Chen Yun-Ju, Cheng Yi-Wen, Chiang Chung-Lun, Liao Chi-Yu, Liao Chien-Chung and Zoe-Fu. Combined with scenarios and installations that allow the participants to experience with all five senses, the series revolves around the exhibition theme "New Friends", encouraging the public to interact and participate through their senses, thoughts and actions.
By creating a micro-community model in the digital era, we expect the public to recognize the multiple metaphors about technology, humanity, nature and more in this art exhibition, and hope that they can develop their own answers through the collaboration process.
---
Workshops
---
Artworks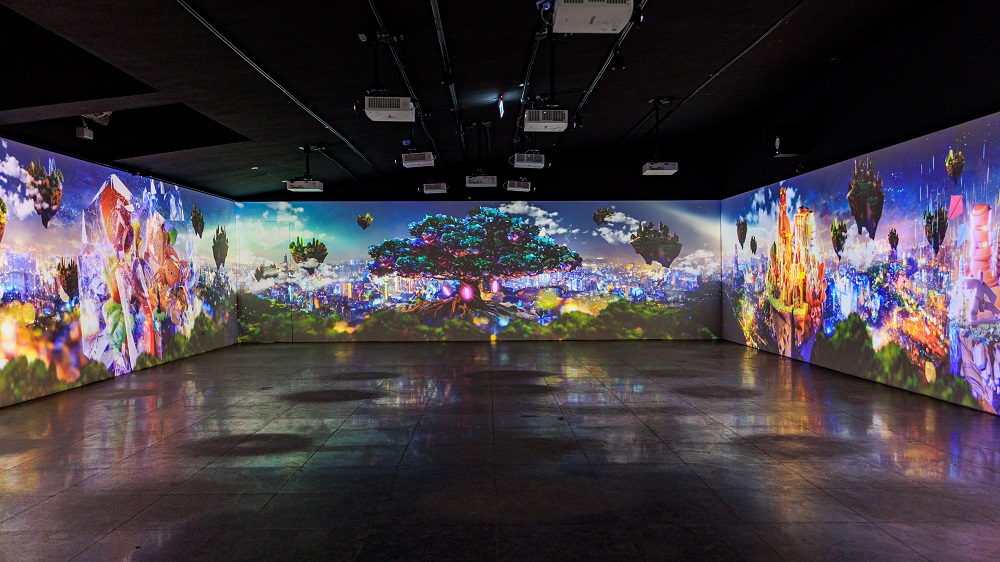 ID
2023
Mixed media, immersive multimedia interactive program
Dimensions variable

Titled "New Friends," this exhibition offers interactive experiences that center around the concept of making new friends. Visitors first register accounts, and then create their own vessels through graffiti. Through scanning technology, the vessel monster scribbled on the paper will become three-dimensional and emerge in the interactive world on the projection screen. This city is formed by the landmarks of New Taipei City, with the "new friend" of each visitor interacting and connecting in the urban landscape, becoming "good friends," breathing new life into the city while discovering the new art museum that is about to be born. In addition, the different changing scenarios and unveiling of different missions reveal the different sides of the city. Fill each experience with excitement and "make friends" in New Taipei City!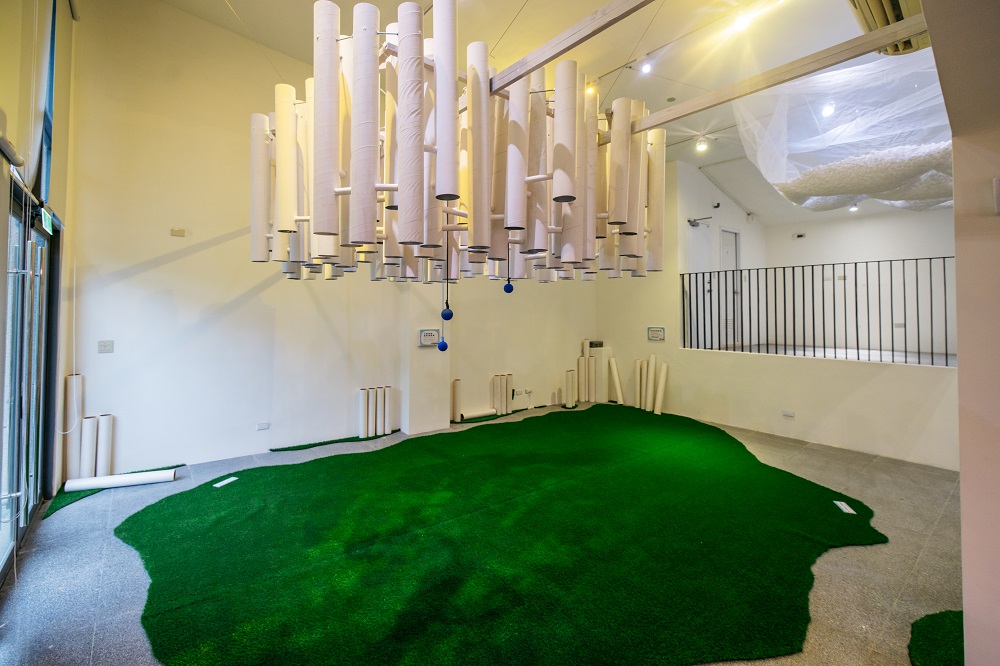 Cheng Yi-Wen, Gym of Pouring Rain
2023
Mixed media interactive installation
500cm x 400cm x 300cm

The work begins with the visuals of rain and uses paper tubes of different lengths as its basic material. The work showcases imaginations inspired by the objects to construct a "gym of pouring rain" surrounded by tropical rainforest. The paper tubes transform into different training equipment. With adults present for supervision but not intervening, visitors can explore the texture of the objects through touch and become immersed through bodily movement and sound, engaging their senses of touch, hearing, and sight.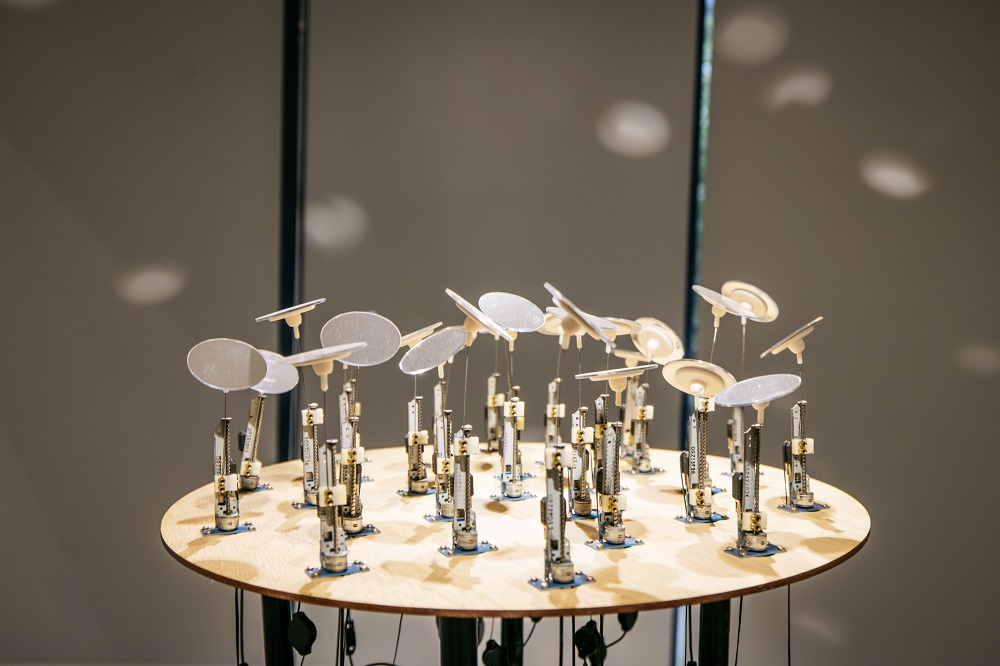 Chen Yun-Ju, Vibrant Sounds II: Symbiosis
2014
Sound-sensitive installation
Interactive sound installation, motor, wooden plate, metal, mirror
118cm x 64 cm x 64 cm, sets of two

Vibrant Sounds II: Symbiosis is a sound-sensitive installation that includes several small objects made with mechanical motors placed on a base of two circular plates, and each object is installed with mirrors that reflect mesmerizing light, resembling small life forms with similar DNA. These small life forms are extremely shy and sensitive; when the surroundings become quiet, they venture out, yet retreat at the faintest sound. The piece draws inspiration from the creatures inhabiting mountain forests, which typically conceal themselves when humans encroach upon their environment. However, once the surroundings fall quiet for some time, they start to move again. Through this interactive sound installation, Chen Yun-Ju explores man-caused changes and their impacts on the environment, hoping to form a meaningful dialogue with the visitors, environment, and space.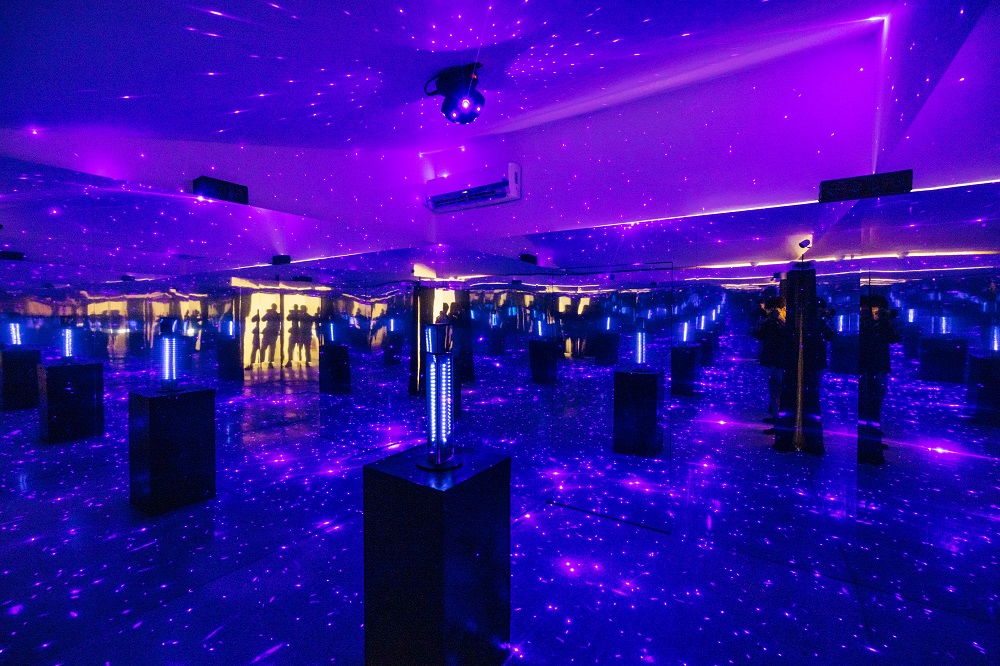 Chen Yun-Ju, Beyond Boundless Light and Sound
2020
Mirror, stage light, speaker, LED light, infrared sensor, metal sensor, microcomputer
Dimensions variable

Beyond Boundless Light and Sound invites visitors to leave behind a vocal recording of themselves singing. Visitors record their singing with cell phones and send the recording into the mirrored space to collaborate in creating interesting new songs. When visitors enter the mirrored space, they can turn the triangular light installation, which plays the songs and initiates stage lighting and LED lights to move with the rhythm, creating a three-dimensional sense of space formed by the infinite extension of sound and light. The work allows visitors to immerse in the feeling as if floating amid the stars of the universe, while the mirrored space symbolizes the brief moment of eternity, expanding outward endlessly.
Zoe Fu, Serving Dishes at the Monster Restaurant
2023
Mixed-media
Dimensions variable

Turn and generate different monsters! What monster is this? Let's create a dish for this nameless monster! What do you think it likes to eat - meat or fruit? Is it fond of drinking water and munching on vegetables? Are there table manners in the monster world?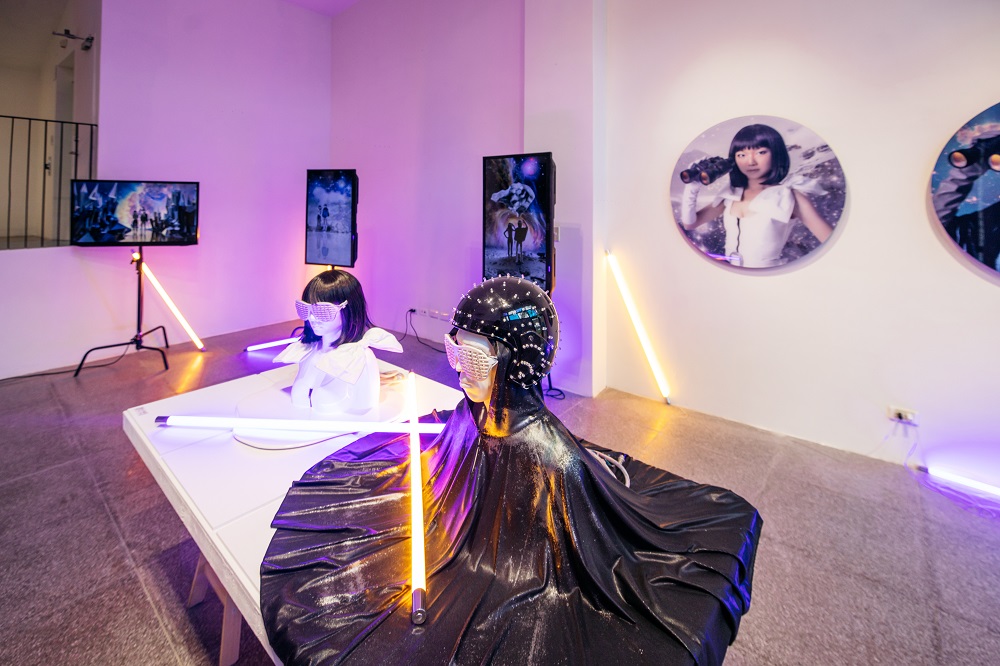 Liao Chi-Yu, Chang Huei-Ming, "Library of Minerals"
The "MimiLucy - Never Give Up" project revolves around Mimi and Lucy's journey into the unknown. Through desolate or vast landscapes, the imagery leads viewers into uncharted territories while prompting them to ponder: How far are we capable of going? Why are adventures vital? As the lives of the protagonists, Mimi and Lucy, move forward, they encourage viewers to reflect upon their own lives and situations.
The project encompasses installations, video recordings, and image displays. The array of visual expressions engages with and breaks down the multilayered, cinematic richness of the imagination.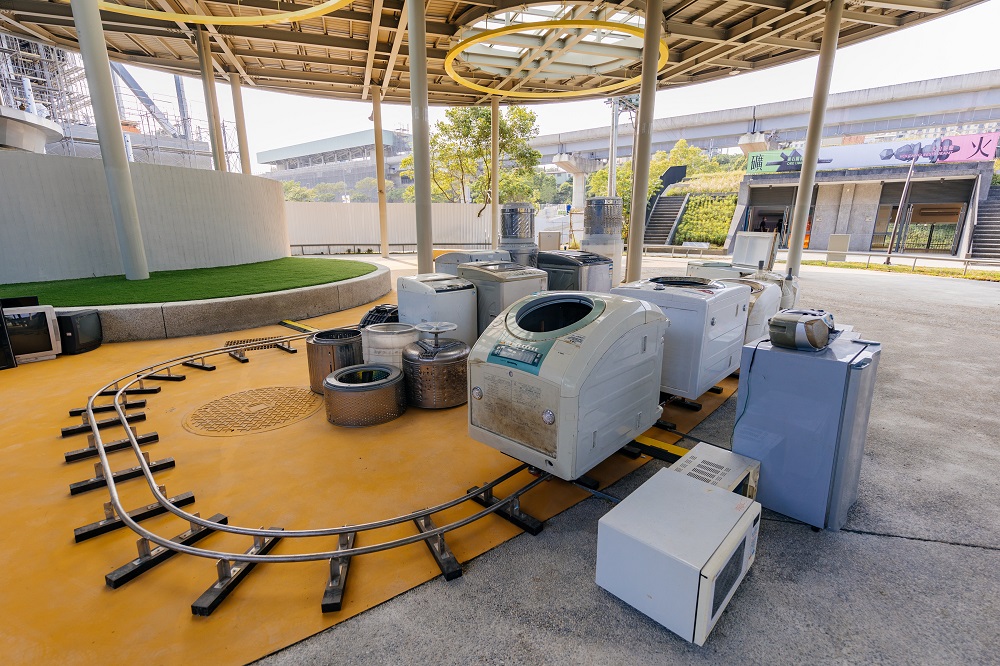 Liao Chien-Ching, The Last Stop of the Turn of Life: Error Star
2023
Abandoned electronics, motion machinery, lighting, speakers
Dimensions variable

Miniature trains such as this are occasionally seen in night markets. The trains depart as long as there are enough passengers without the need for timetables. Similar to various amusement equipment, they offer leisure and an opportunity for passengers to assume the roles of conductor or traveler. The travel possibilities within this loop are limitless.
Travel is a movement where experiences and meanings simultaneously evolve. I hope this work creates a movement that, like other trains, connects with the prosperity of an entire generation and highlights the progress speed of the times, encouraging users to find their starting points for the goals of life while enjoying the leisure that is enabled through societal success.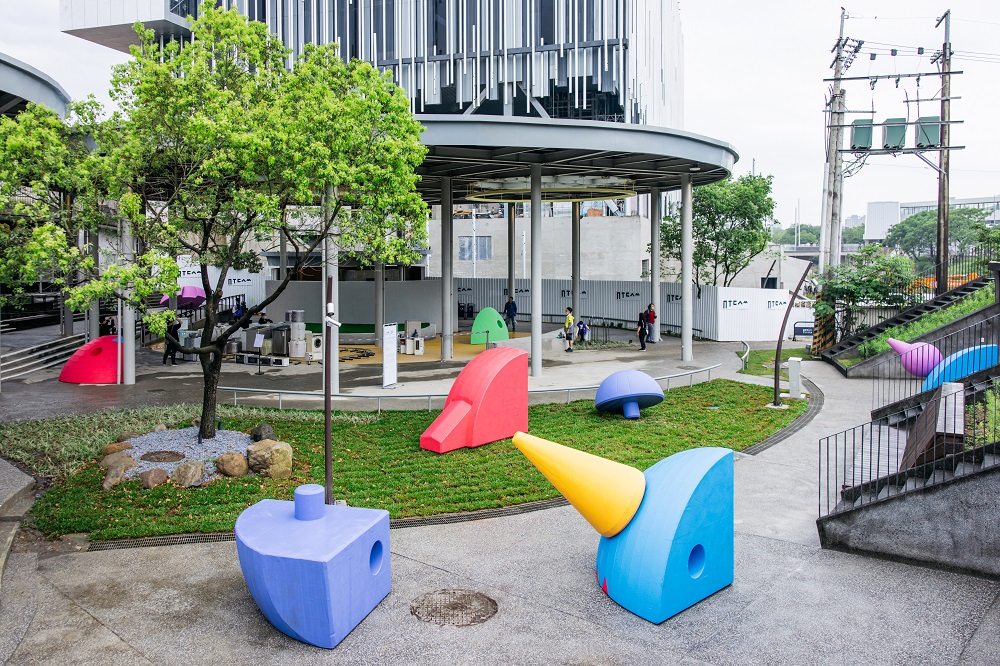 Chiang Chung-Lun, Colo
2023
Styrofoam, fabric, flexible paint
450cm x 450 cm x 420 cm

Light reflects colors, colors make rainbows, and rainbows are the reason behind COLO. COLO is a product that was generated outside of logic and originated from childhood imagination. It is fragments that are left behind after rainbows disappear and an onomatopoeic term that results from combining colors. Large blocks of rainbow pieces are placed on the land, like colorful blocks that allow children to piece together to create their own unique forms.